Health House is the mecca of limit-busting. It's refreshing, really, to know you can do more, sweat more and burn more than you thought you could. For me, fitness is all about beating your yesterday. HH helps me do just that.
Finding the perfect fitness fix is tough. Before Health House, I attended countless workout classes and multiple fitness centers, yet never found my niche. The class atmosphere was never really my thing – I've always liked doing things on my own, since it's my personal fitness journey. I even trained for Miss USA alone – I would receive a fitness plan from my remote trainer in OKC and would workout every day by myself!
All in all, I thought I pushed myself to the limit – Oh, how I was wrong. With that, here are –
5 Reasons I Chose Health House 
1. Culture
They say you are who your friends are. Well, I would imagine the same is true when you're talking about fitness partners as well. The culture at HH is simple – You come to kill your workout, and then go and kill it at work. HH members are your local BA peeps who don't believe in excuses. They motivate me. The 5:30a and 6a classes are always PACKED. People are grinding before the sun even comes up, and they grind all day after. I'd like to be more like them, so I try to spend as much time as I can with them. Without even knowing it, they make me better.
2. Energy
Immediately when you enter HH you get that pregame feeling – Your adrenaline is pumping, you get in the right mindset and you're ready to put in work. Your tired drive in is a thing of the past – It's game time. Music blaring, trainers shouting with encouragement, high fives given to strangers – You're home. One look at the Health House Instagram and you'll know what I'm talking about!
3. Accountability
The other week I was overwhelmed by my to-do list. I was about to leave for a trip and I had so many errands to run – I didn't think I was going to have time for the class I signed up for the week before. I actually went into my app (seen below) to cancel the class, but it was within 24 hours of the class so I wasn't able to cancel. The app basically acted as a best friend saying, "Becca stop making excuses and get your booty to the gym." How cool is that?! I ended up going, sweating out my stress, and feeling refreshed to finish the rest of my to-do list.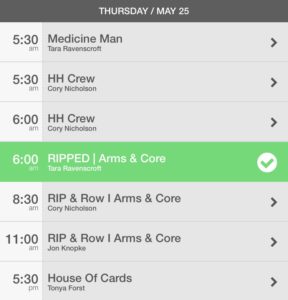 4. Encouragement
The trainers at HH are truly one of a kind. They know your name. They know your limits. They know what you're able to overcome. They want to help you reach your goals, and they make a point to be a positive part of your fitness journey.
5. Community
It's been so much fun making new friends at HH. There's a sense of unity. We're all in it together – Grinding together, sweating together, struggling together, overcoming together. For many, often before the sun even rises. It's a key factor that makes you feel welcome when you arrive and excited to come back when you're away.
Thanks for joining me on this journey, friends! xx – Bec