"I was planning for a sunset picnic and it stormed the entire day. Surprisingly, the rain made it all the more perfect." – Bryce
Hey guys! Wow – You all have shown Bryce and me SO much love the past couple of weeks, and we're so thankful for your support. It truly means the world to us! I've been asked by many of you to share our engagement story as well as more details about our relationship, so here it goes! Grab some popcorn – Bryce has put on quite a show!
Everything about our relationship has been fast paced – We started dating one month after meeting each other, and we've talked seriously about spending our entire life together not far after that. Because we've talked so much about our future, I knew a proposal was coming – I just didn't know when, where, or what that exciting moment would look like. I'd also like to mention that Bryce is a terrible liar (which is a great quality to have) – So the fact he pulled it off without me knowing is SO impressive!
Before the engagement, Bryce planned a blog photo shoot with his hometown friend, Meredith Washburn. Bryce is so supportive of my blog (he takes the majority of my photos) so it wasn't out of the ordinary for Bryce to plan something like this. I know, I'm SO lucky to have him!! We ended up embracing the rain for a couple of hours, while Meredith captured/created every moment. It was SO MUCH FUN! We couldn't stop laughing the entire time and I never wanted the shoot to end.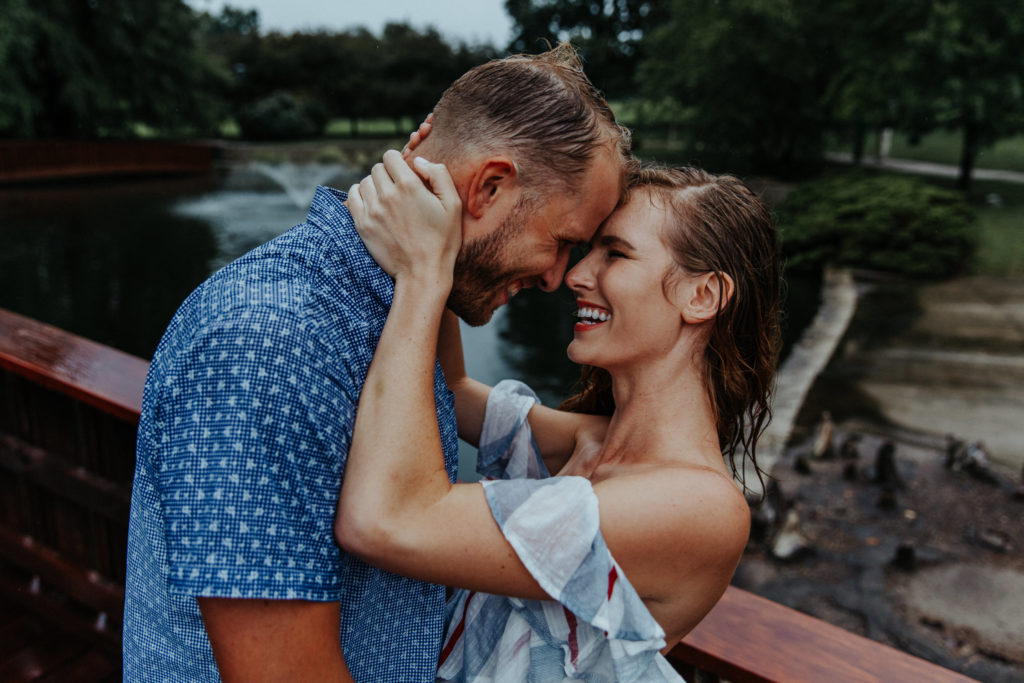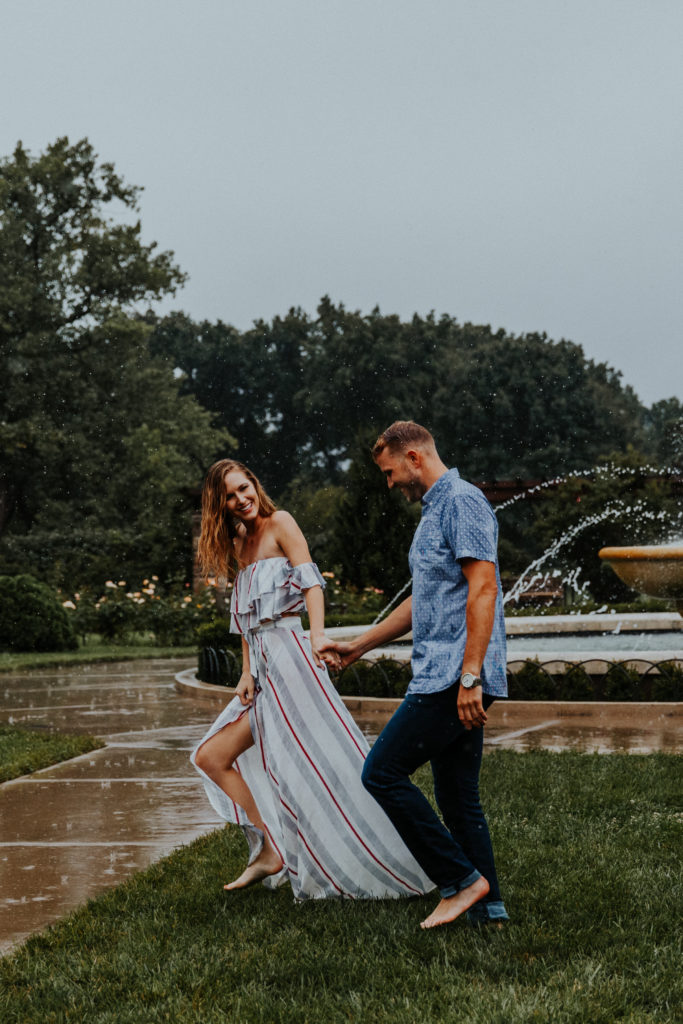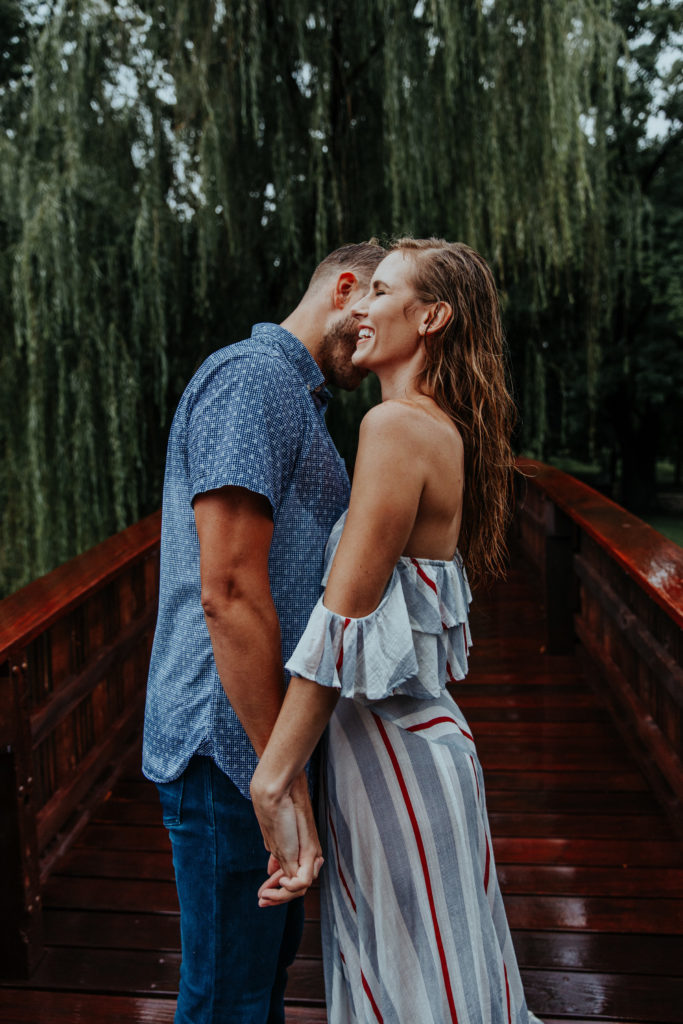 After the shoot, we went back to my apartment to dry off. I threw my dress in the dryer and started to blow dry my hair – After all, we were heading to a winery that night!! This, too, was a long-time plan that I didn't find to be out of the ordinary. Are you starting to see a theme here? Bryce is a planner, and everything sounds good to me. Pretty good combo.
On our way to the winery I had a feeling something was up. Bryce was in his thoughts and I could tell he had something serious on his mind. I didn't know what to expect, but I knew he was up to something. We got to the winery and nobody was there – It's completely empty. Just us! We sat down at a table overlooking a pretty pond and the minute we sat down, Bryce had to go inside for something. He comes out with a massive picnic basket and a huge bouquet of flowers. At this point, I was thinking, "HOLY. CRAP." could tonight be the night? He started setting up the picnic, poured us both a glass of wine, and asked to go on a walk. From this point on – I seriously think I blacked out. I don't remember what he said to me, I don't remember what I said to him. I just know I started crying, smiling and thinking, "Wow. This is really happening."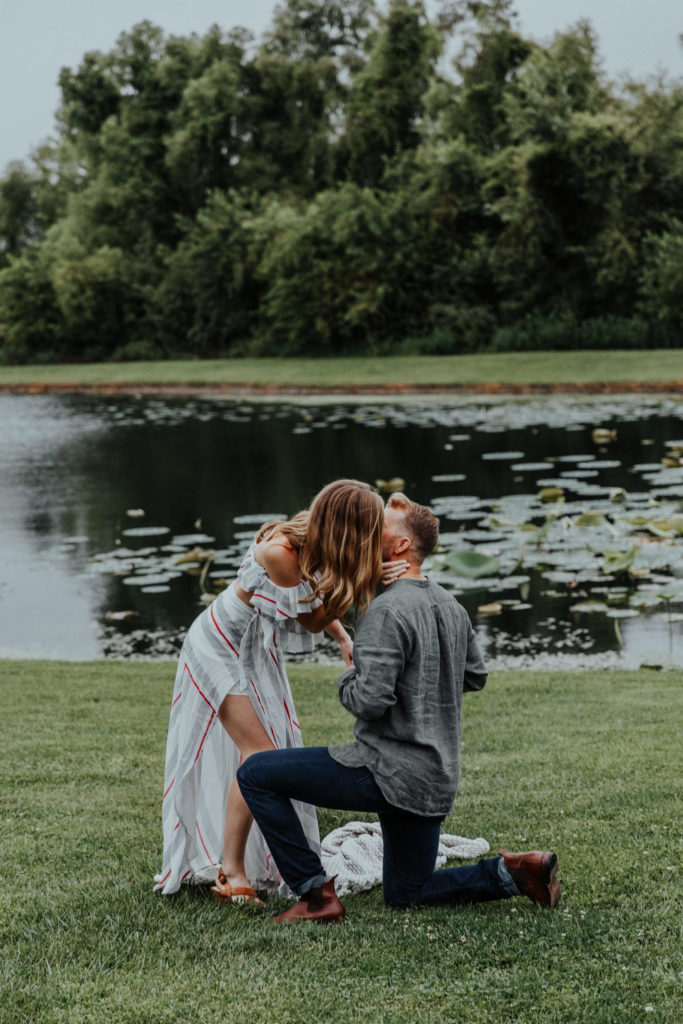 As if the day couldn't get any better, the last surprise brought everything full circle. My family and friends are my world, and Bryce (as well as our families) planned a party at my parent's Farmhouse! It was such a fun celebration and I'm so thankful we could share the special day with all of them. It was truly the most incredible and well thought-out day. I will cherish these memories for the rest of my life.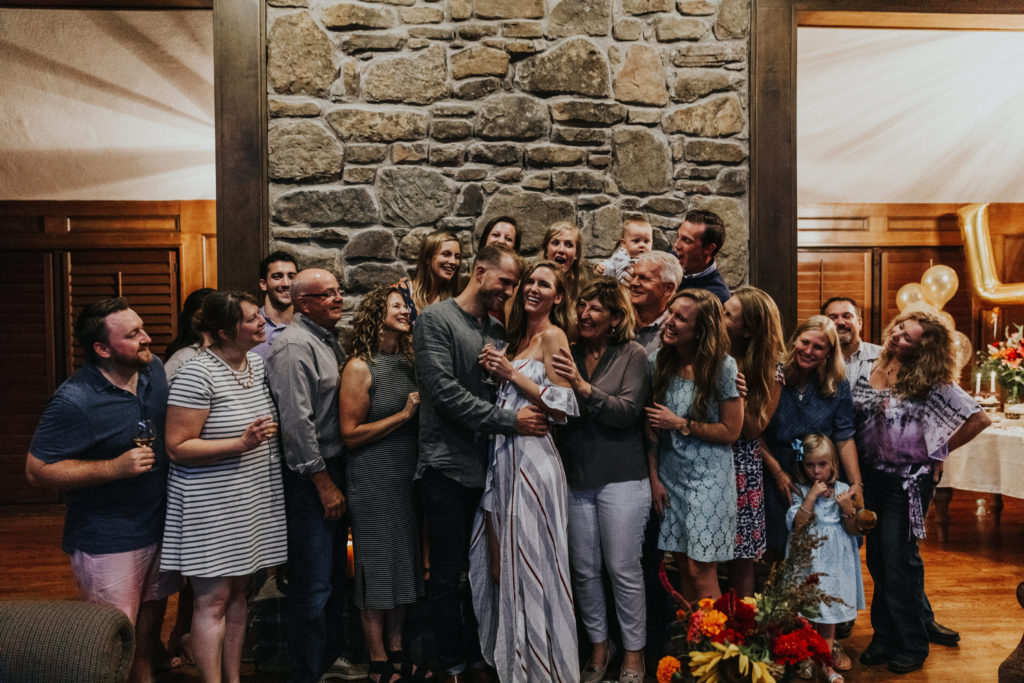 Ah, and no engagement story is complete without a picture of the ring!! Eek! Someone pinch me! This picture is post champagne popping.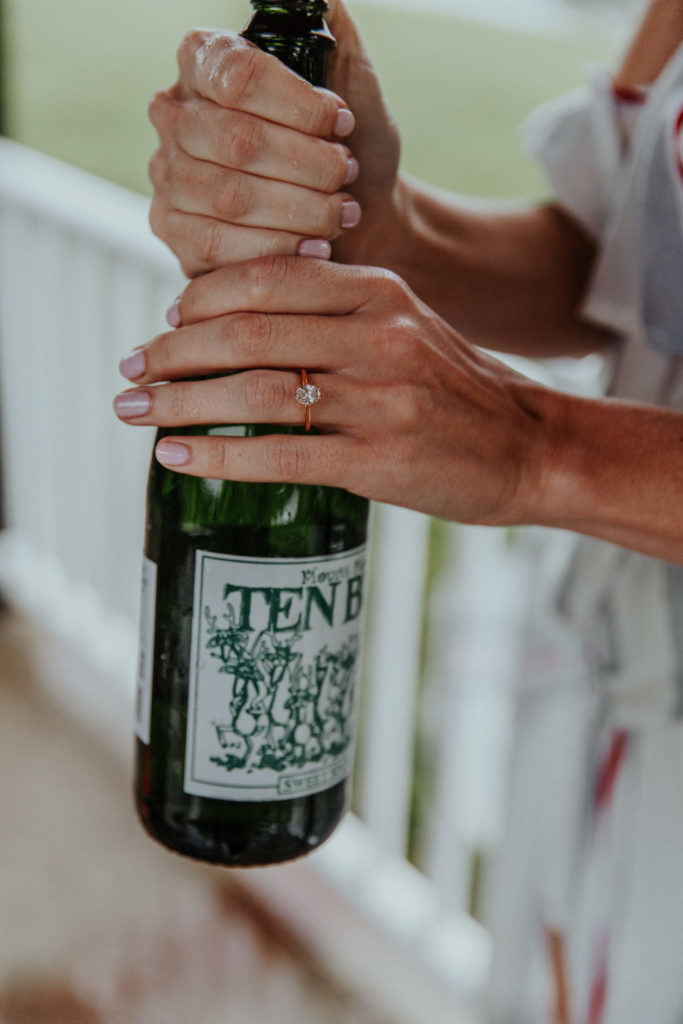 Thank you all so, so much for sharing this special time with us. Every comment, DM and message truly means the world. THANK YOU for all your LOVE!! We can't wait to share the rest of this journey with you!
XX,
Rebecca & Bryce 
BLOOPERS: 
YIKES! As well as heavy rain, it was also windy! The wind blew over one of our wine glasses and Bryce was the cleanup crew. Way to go, stud. I'll keep ya. : )