The transition period between summer and fall is a tough one (especially in the midwest)! Why is it 75 degrees today when it was pushing 95 yesterday? Oh wait – why is it supposed to be back up to 90 tomorrow?!?
*Cue the panicked closet shopper… clothes everywhere… we've all been there* 
Well, I can't personally call mother nature and ask her to please consider this thing called consistency, but I can suggest a super simple look that can easily be incorporated into your transition mode! The romper. You can pair it with sandals or boots, a sweater or jacket. The options are endless. I'm totally digging this romper because it incorporates a fall color palette, yet it still lets me breathe during a warm afternoon!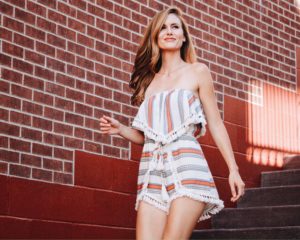 This one is from Etiquette – they have it in other colors, too!
And if you're visiting me from afar, I love you and I've got you covered. Here are some other rompers that are on my wish list!
Off the Shoulder / High Collar / Low V / Maroon Low V / Boho Long Sleeve
See you around town, babes!
XO,
Rebecca